Conservation Connection
Conservation Connection is a series that the Topeka Zoo has started in order to inform people about conservation efforts going on in their own backyard as well as on a global scale. Conservation Connection will be held every other month during the 2014 season.
 This event is FREE to the public!
Sustainable Seafood Dinner
This year we're trying a new spin on conservation, we are working together with Pachamama's in Lawrence to host a Sustainable Seafood Dinner. Click the banner to learn more about this unique event!
Zoo Announces 2014 Family Fun Fest!
 Coming this May, Zoo guests will be treated to a variety of activities that will be fun for the whole family!  Click Here to learn more about the fun you will have at the zoo!
Gage Park Family Passport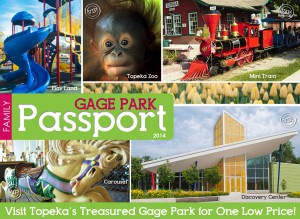 Now Available…..Gage Park Family Passport!  Click Here to learn more!