Elephants At Your Topeka Zoo
Topeka Zoo Elephants Get New Roommates!
The Topeka Zoo's animal collection has increased in a BIG way!  For the last two months, the zoo has been preparing for the arrival of two female elephants, one Asian and one African, who will join the Topeka Zoo's current elephants Tembo and Sunda.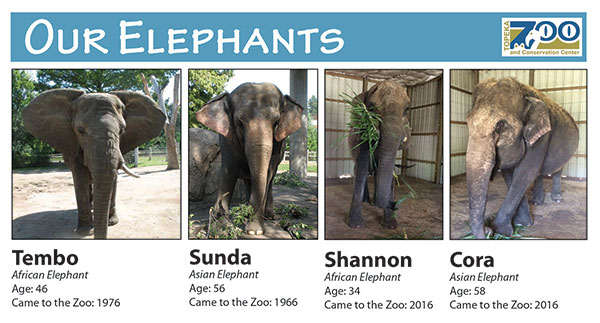 Cora, a 58-year-old Asian Elephant and Shannon, a 34-year-old African Elephant, arrived at the Topeka Zoo Aug. 24, from Florida.  For 33 years, Cora and Shannon, along with their owners, have traveled across the Eastern half of the United States presenting an elephant educational program called Elephant Encounters.  After one of the owners passed away in February, a decision was made to retire Cora and Shannon with the hope that they could remain together.  According to Zoo Director Brendan Wiley, the Topeka Zoo was one of three zoos in the nation that house both Asian and African elephants together.  "We are delighted to have these two elephants join our herd and live out their remaining years in comfort and peace," Wiley said.
Over the next few weeks, the zoo's Elephant Team will work with Cora and Shannon to acclimate them to their new home as well as their roommates Tembo and Sunda.  Several zoo experts around the country are also available to come assist with the introduction, if necessary.
As with all incoming animals to the zoo, the elephants will be in quarantine for a period of time determined by the zoo's veterinarian.  To give the elephants privacy, during the transition, the elephant exhibit may be closed to the public during parts of the day.
According to Zoo Director Brendan Wiley, "the zoo is extremely excited for the arrival of the new elephants and looks forward to introducing the new additions to the community".  For updates on the elephants, the public is asked to come back and visit our elephant page here or visit the Zoo's Facebook page at facebook.com/TopekaZoo.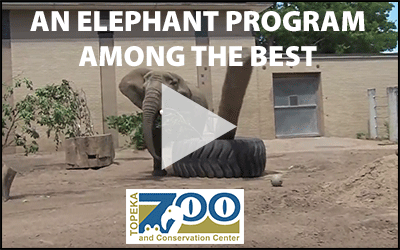 An Elephant Program Among the Best
To see what makes our elephant program among the best and to view a day in the life of our elephants, click on the video link at the right.
For complete details on our zoo's elephant program, visit www.trunktruths.com.
Would you like to help support our elephant program?
If you would like to help support our elephant program through an online contribution, just click on the button below to complete your donation. Thanks for your consideration and support!

Pokemon Safari Zone Thursdays in August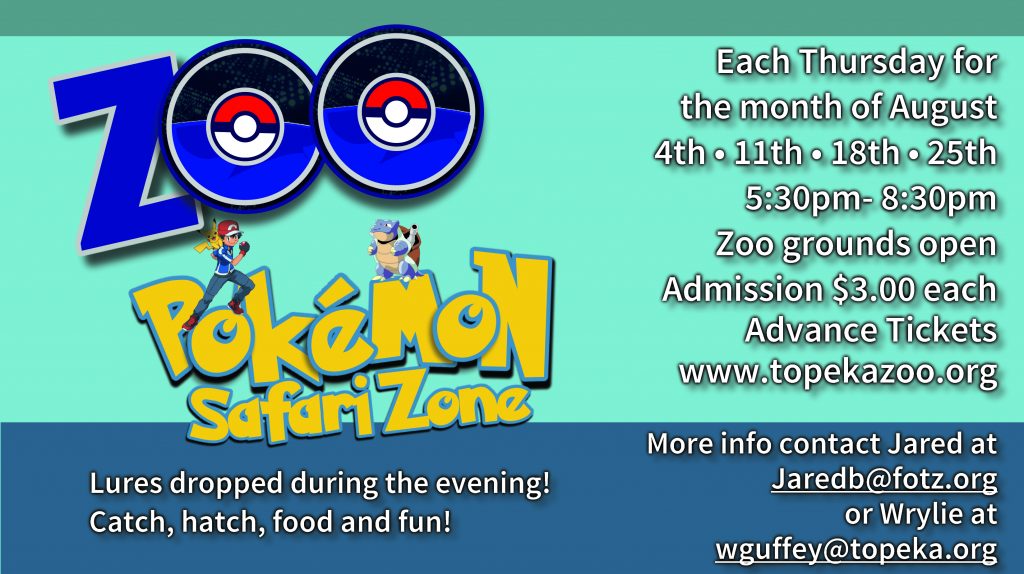 We're going to reopen the grounds every Thursday in August from 5:30PM to 8:30PM for a Pokemon Safari Zone! The zoo has over 15 PokeStops that allow you to refill up on pokeballs in just a short walk and there are plenty of pokemon to be found. Lures will be activated throughout the event and oh?… there's no better place to hatch those eggs! Non-alcoholic drinks and snacks will be available for purchase. Admission to this fundraiser is $3 per person paid at the door. 2 and under are free. There will be a drawing for several prizes (must be present to win). Come catch 'em all with us!
Please feel free to bring a charger to plug in and recover your phone battery at one of the phone health centers.
Common Q&A
Can you buy advance tickets?
Yes! Click here to buy tickets now!
Do members have to pay $3?
All participants including FOTZ members will be charged $3 for this fundraiser. Funds raised will be used toward zoo enhancements. Members can still catch pokemon for free during our normal open hours from 9am to 5 pm daily the rest of the year!
Will animals be out?
The buildings at the zoo will be locked but some animals may have the choice to stay outside depending on the weather. The first night we hosted this, the giraffe, lions, gazelle, elephants, hippo, and North American animals all chose to stay outside where guests could watch them.
Does the Zoo have WiFi?
The zoo does have WiFi in a few areas, however it is not completely reliable. We are trying to see if we can do anything to fix this problem but cannot guarantee a fix.
A friendly reminder – for your safety participants must stay in public areas at all times.
Disclaimer: we cannot be responsible for any problems with the game, cellular service, or anyone's personal devices and cannot issue refunds because of any malfunction. This is including but not limited to game servers being down. We recommend checking the game server status before entering the event.
Check out the Map App!